An Environmentally-Friendly Spray Foam Insulation System Designed to Control Moisture and Eliminate Air Infiltration While Reducing Energy Consumption for Lower Operating Costs.

ICYNENE MD-C-200 is an energy-efficient, environmentally friendly, closed-cell spray foam insulation system available for agricultural applications.

It is formulated from renewable resources and is completely non-toxic. It saves the agricultural business owner up to 40% on energy costs compared to other conventional types of insulation and will eliminate air infiltration, allowing for a more consistent and controlled environment for poultry and livestock.


ICYNENE MD-C-200 can also be used for insulating liquid storage tanks, freezers and cold storage facilities for storing perishable items such as potatoes, onions, tomatoes, and nuts, among others.

More and more, rising energy costs are cutting into the bottom line of agricultural business owners and operators. The costs of heating and cooling poultry houses, swine barns, farrowing houses, equine barns, cold storage facilities and so on is becoming a larger and larger operating expense.

And those costs will only increase in the future.
ICYNENE MD-C-200 is a 2.0 lb/ft³ density, closed-cell foam insulation that goes on as a liquid, filling the cracks and crevices prior to expansion, adhering to virtually any clean and dry substrate and forming a fully-adhered, seamless insulating system.

ICYNENE MD-C-200 offers exceptional insulating performance that can reduce energy costs by up to 40%. It forms a moisture barrier, sealing the structure to prevent moisture penetration. It also blocks air movement and has a low water vapor permeance level, which controls moisture vapor movement. It can be used to completely seal bottoms or tops of grain storage silos, either concrete or galvanized steel, and livestock or poultry feed storage bins.

ICYNENE MD-C-200 also adds structural rigidity, and can help "tighten" older buildings made of metal or wood.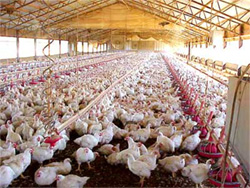 Using ICYNENE can reduce energy
cost by up to 40%.
A Superior Agricultural Insulation System Which Increases Energy Efficiency, Reduces Operating Costs, and Assists in Achieving Increased Farm Production.

By investing in ICYNENE, a highly energy-efficient, high performance insulation system that also acts as an air barrier, moisture barrier and, in some cases, a structural complement to older metal or wood structures, additional long term savings can be achieved.