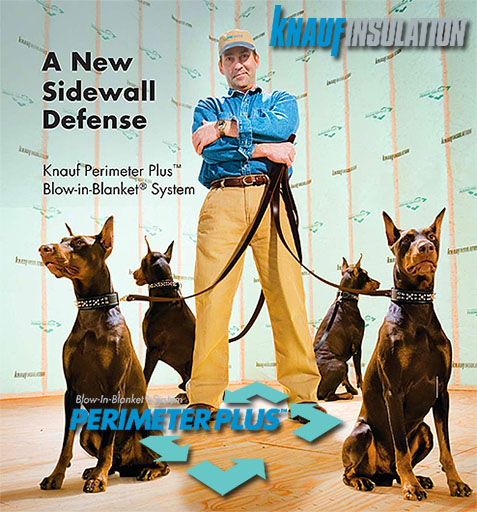 An Innovative System that Creates a Thermal and Acoustic Barrier for Your Home!

Homeowners want peace of mind that their home will be comfortable and energy-efficient throughout its life. So insulation must be installed to provide maximum thermal and acoustical efficiency, be moisture-free and not settle or deteriorate over time. The Knauf Perimeter Plus™ Blow-In-Blanket® System is the most efficient and economical insulation alternative available to give homeowners the assurance their looking for.

The Blow-In-Blanket System (BIBS®) is tested and proven with credibility and momentum. Over 2 million homes have been insulated with BIBS since 1984. In addition, with increasing energy costs, homeowners and builders are seeing the benefits of well insulated homes.
Watch the video segment showcasing the
Knauf Perimeter Plus Blown-In Blanket System - as seen on Designing Spaces
Knauf Perimeter Plus System as seen on Designing Spaces (8:42)
Watch the video segment showcasing the
Knauf Perimeter Plus Blown-In Blanket System
Knauf Perimeter Plus Blown-In Blanket System Video (3:37)