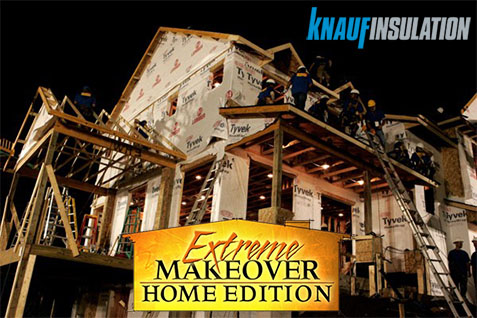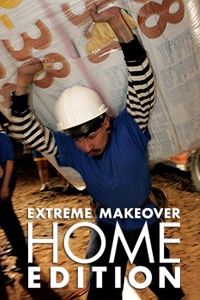 Extreme Makeover: Home Edition (100th Episode Special) The Swenson-Lee Family.

For the show's 100th episode, Ty and the design team head to Minnetonka, Minnesota to help Erik and Vicki Swenson and their seven children; Taylor, 13, Samantha, 10, Trevor, 10, Tyler, 9, Tara, 7, Stella, 2, and Olivia, 2, four of whom were of Vicki's sister Teri Lee, who her and her boyfriend were murdered by Teri's ex-boyfriend, these four children becoming orphans (their father was killed in a car wreck five years earlier) until Erik and Vicki welcomed them into their home.

With seven children and another one on the way, the Swenson-Lee Family quickly outgrew their three bedroom home. In just seven days, Ty and the Design Team built a 5,600 square foot, 7 Bedroom, 5 Bathroom home for this deserving family. Eight families from previous seasons also appeared to help out.

Knauf Insulation donated insulation batts that were used to convert the Swenson-Lee's three-bedroom home into a 5,600 square foot home with seven bedrooms and five bathrooms.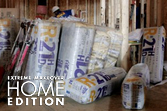 So, just how do you build a 5,600-square-foot custom home, landscaped and completely furnished, in only six days' time? You need a working schedule that breaks down the job hour-by-hour and a team of building partners that can stick to that pace or exceed it.

In the case of the Swenson-Lee home in Minnetonka, TJB and its 200-plus crew of contractors and subcontractors went beyond expectations. "Extreme Makeover" producers had asked that the house, the biggest in the show's history, be built in 106 hours. "It was a very scary goal," Budzynski said Tuesday.

But he turned the keys to the house over to the design team on Monday afternoon, after 99 hours of construction labor.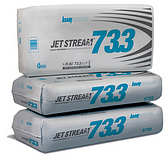 Extreme Insulation
Using the latest insulation technologies to battle the Extreme winters of Minnesota, the Swenson home was covered from top to bottom with the very best.

How long did it take for the insulation crew to insulate every square inch of this awesome 5,600 square foot home?
one hour